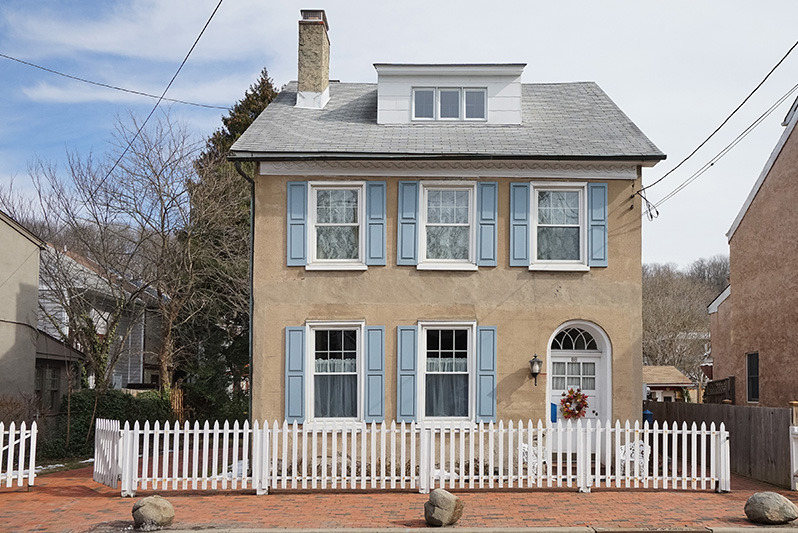 Federal-style architecture was "the dominant style of the new United States from about 1780 to 1820," according to Virginia Savage McAlester in her book A Field Guide to American Houses. Most often, Federal-style houses are simple square or rectangular structures of two or three stories in height, and two or more rooms in depth. The facade & window arrangement is almost often symmetrical. They are very typically constructed of white clapboard, though variations exist that utilize brick, stucco over stone, or other exterior materials. Federal homes are simple and restrained in form, featuring only select embellishments or details throughout.
Some key identifying features include:
Few elaborations other than accentuated front door (often including entry porch)
Elliptical or semicircular fanlight above front door
Roof cornice commonly emphasized with tooth-like dentils or decorative molding
Six-pane, double hung sash windows (often featuring shutters)
Roof style may be side-gabled, hipped, or centered gable
An example of Federal-era architecture, 88 N. Main Street in Lambertville is currently listed by River Valley Realty
If you have any questions about Federal or other historic architectural styles – or if you are looking to buy or sell a historic home soon, please feel free to contact me at any time.
Matthew Jacobs, Realtor & Historic Home Specialist
Instagram.com/HistoricHouses
Facebook.com/HistoricNJ
matt@mattsjacobs.com ​
​(609) 397 3007 office
(646) 339 7257 mobile