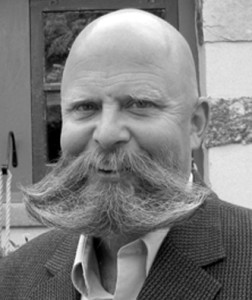 Brad moved to Lambertville in the1980's from Montclair, NJ. He and his wife, Linda, then in their 20's, made the decision to move from north Jersey in search of a less hectic lifestyle. They bought a fixer-up on York Street and started ripping and tearing! The end result was a top to bottom restoration of a circa 1873 home where their daughter, Kelly, now in her 20's, was born.
When Brad first moved to Lambertville he worked as a woodworker and furniture restorer, riding his old red bike to work every day. After his daughter was born Brad started working at his home-based studio giving him the flexibility to enjoy his most favorite job, that of a dad and watching his daughter grow up.
Brad and Linda have owned and restored 5 Hunterdon County homes, 3 of which were in Lambertville. Now at a point in their lives where they are downsizing, Lambertville still makes perfect sense because of the many unique and interesting places to live and the walk-ability of the town. Brad and Linda have settled into their cozy Quarry Street home, nestled along the Swan Creek.
Brad's never ending love for old homes led him to getting his real estate license. He specializes in properties primarily in Lambertville and Stockton. His clients find Brad's knowledge of both vintage homes and the area invaluable. Many of Brad's clients have come to appreciate his years of experience of both the local architecture and the local culture.
Brad keeps it local. Whether it is his morning coffee, dining out, hiring a craft person or buying a piece of art, Brad believes keeping it local is the best way to go for the health of the community. Between the wonderful history, nature, events, eateries, pubs, shopping, yoga studios, and all the other activities in this neck of the woods, you'll always have something interesting to do.
And then there's the river…oh, the river! Like Brad always says – "If you're not enjoying the river…you're only 75% here!" The river offers boating, tubing, kayaking, canoeing, fishing and swimming. Or, just sitting along the river's edge can calm ones spirit, bringing a bit of peace to the day.
Brad can often be seen riding that same old red bike thru Lambertville or floating down the Delaware River with his shaggy dog, Blanche, in their boat, the "Luna-tiki", an old sailboat converted into a cabined motor launch complete with thatched roof and potted plants.
Brad has a unique understanding of what his client's are looking for – whether it is a first time home buyer looking for a fixer upper, folks looking to downsize or someone looking for a unique space to convert into their dream home.
Office: (609) 397-3007
Cell: (908) 797-6484
Email: bradleyjsanford@gmail.com