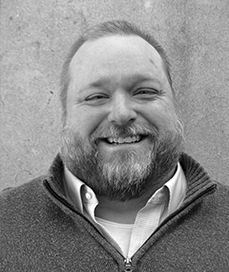 It could be said that Eric grew up in real estate, frequently helping his mother set up for open houses or finishing his homework in the conference room of her office while she was writing a contract. Originally from Morris County, New Jersey, Eric relocated to Bucks County after college to be closer to family and immediately fell in love with the river towns along the Delaware. After more than twenty years as a resident of New Hope and most recently Lambertville, Eric has developed a vast knowledge of everything our diverse community has to offer, whether it is where to get the best martini, who has the greatest brunch or a recommendation for a dependable plumber.
After a successful career working as a chef and in hospitality management, Eric decided to follow in his mother's footsteps and begin a career in real estate. Initiative-taking and detailed-oriented, Eric provides a curated and individual experience for his clients, understanding that buying or selling a home is a unique experience for everyone. Eric's experience working in a faced-paced, high energy environment makes him uniquely equipped to navigate his clients through the process of finding a new home. Eric believes that integrity, dependability, and attention to detail are paramount in his role as a real estate agent and he works tirelessly to extend these qualities to every client.
Navigating the current real estate market can be daunting. Eric's years of customer service and strong managerial experience provide his clients with the tools they need, whether you are a seller trying to find the best way to market your property or a buyer who is trying to find their dream home in the face of intense competition.
In his spare time, Eric enjoys cooking and entertaining, always trying to find the next great recipe or enjoying a classic cocktail with friends and family. A self-described amateur landscaper, he can often be found working in his garden and manicuring his property. An avid reader and music lover, Eric enjoys strolling the aisles of a local bookstore or record shop. A lifelong lacrosse player and enthusiast, he is always trying to find ways to enjoy and promote the sport that he loves.
Office: (908) 397-3007
Cell: (215) 915-4635
Email: EricRude.RiverValley@gmail.com