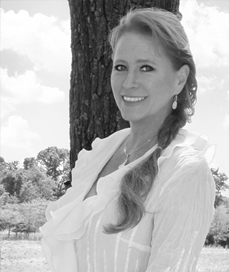 Holly knows that finding your way home can be a journey.  Her own journey began in Hawaii, where she developed an authentic appreciation for the beauty of community. While it was easier to stay in the shade of a palm tree on the beach, Holly spent days with her grandfather, a local builder, unknowingly beginning to appreciate building and design layouts and planting the seeds for her future career.
Studying graphic design and marketing in California, she followed family to New Jersey.  Looking to apply her work ethic towards pending student loans, she applied for a job at the Stockton Inn. There, her journey paused as she fell in love…with the area, the history, a guy, a few chocolate labs…and found her home.  In Delaware Township, she raised her family and invested her entrepreneurial skills in numerous local businesses, including a long-established farming operation and a green energy HVAC company.  Her thirty years of community involvement includes school and political fundraising, coaching soccer and 8+ years of volunteering for the Hunterdon County 4-H Dairy clubs. While serving on Delaware Township Open Space Committee she has been helpful in the dedication of lands that preserve our local farms and waterways, in conjunction with balancing the interest of responsible development.
Holly brings some very unique experience to the real estate process. She has managed the renovations of several older homes as well as new construction.  As the owner/operator of three farms… a commercial nursery, a beef and dairy farm and a 162-acre organic grain and poultry farm… she has extensive knowledge of acreage, building lots, farming, and preservation.  Holly is a NJ Registered Municipal Clerk, and her understanding of resources, rules and regulations can save both time and energy during the most complex land and property purchases. Also, an experienced general contractor with numerous investment projects, Holly's insight on the highest potential for your property or purchase can only be found in firsthand experience. This experience carries over to her design abilities that include interior layouts and exterior landscaping plans.
Holly's experience, along with a strong work ethic and positive attitude, combine to assist her buyer and seller clients begin the journey to their next step home. Holly is licensed in NJ and is a member of Core Board of Realtors, New Jersey Realtors and the National Association of Realtors.
Cell: (908) 217-9368
Office: (908) 751-7000