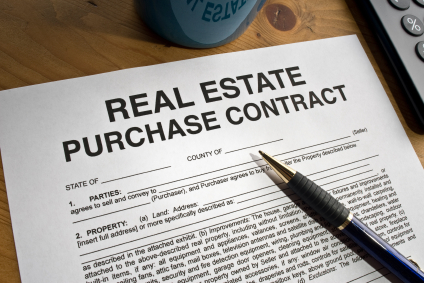 Once you have found the right home, it is time to put your intentions to purchase in writing. This is called an Offer to Purchase, and will be completed by your River Valley agent. Components of this offer include the good faith deposit, home inspection and other contingency ("subject to") dates, closing dates,financing, and the inclusions and exclusions of the sale. This offer also includes the type of deed that will be transferred, a legal description of the property, title and  environmental disclosures and walkthrough provisions.
Further negotiation might be necessary with the seller…counter offers  are common in real estate transactions. Once both parties have reached an agreement the documents are revised and signed by all. In NJ, a three day  attorney review period begins. In PA, the contract is considered binding once it is executed with signatures.
Once the contract is finalized, you will hire professionals to do inspections which may include structural, wood destroying insect, septic, pool, lead paint, oil tank, soil, or environmental. Inspections provide you with information about your investment. They can identify aged systems, potential or existing problems, and provide you with a general education about the home you are purchasing. After the home report is reviewed, there may be issues that warrant further negotiation, credit or repair.
Simultaneously, your  mortgage commitment is completed within the time frame outlined on your contract. Your attorney or settlement agent will order title insurance and prepare the legal documents for closing. Once the closing is scheduled, your River Valley agent will schedule the walk through, usually the day of the closing. This is an opportunity for you to check the condition of the home, confirm repairs and that there has been no additional wear and tear beyond normal use. Sellers are obligated to turn the home over in "broom clean" condition.
With your attorney or settlement agents guidance you will sign the legal documents. For a buyer who finances their home purchase, this is usually done in two parts. First, you "close the loan," and then with the proceeds from your lending institution, you "close on the house." Once the documents are signed and the funds transferred and confirmed, you are handed a set of keys… Welcome to your new home!