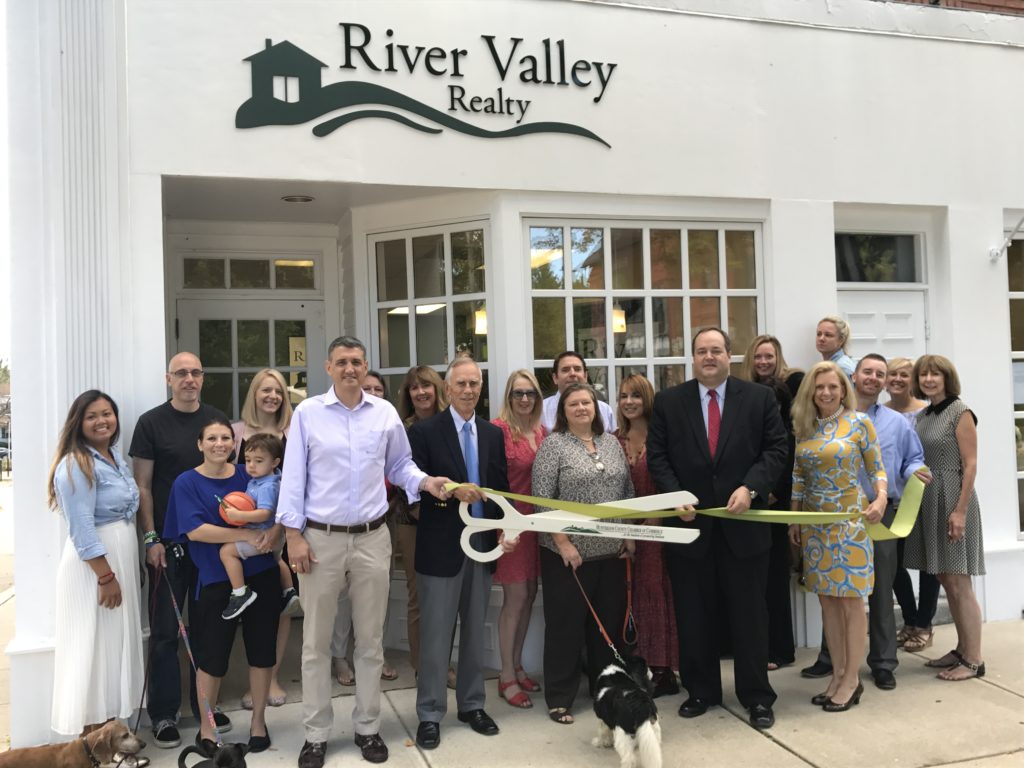 FLEMINGTON — One of New Jersey's most unique real estate companies, River Valley Realty, today made a bricks-and-mortar commitment to advancing the revitalization of downtown Flemington by opening a new office on historic Main Street.
"We are tremendously optimistic about the future of Flemington, and being situated right in the heart of this wonderful, walkable community will enable us to contribute directly to strengthening its economic vitality and to advocating for home ownership here and in surrounding municipalities," River Valley Realty Owner Kim Ward Bacso said.
Joined by other local business leaders, Bacso celebrated the official opening of the office at 110 Main Street with a ribbon-cutting ceremony. "There are many positive changes coming to Main Street, and we are excited to be a part of them," she said.
"Many of our agents are already involved in community, school and religious organizations in Flemington, and our physical presence downtown now makes it even easier for River Valley Realty to deepen our local engagement," Bacso said.
Unlike many other real estate agencies, River Valley Realty is an independent, privately owned, local, full-service company that offers a wealth of highly specialized, boutique services in Hunterdon and Mercer counties in New Jersey and in Bucks County, Pa. It represents buyers and sellers in the Delaware River towns of Lambertville, Stockton, Frenchtown, New Hope, Yardley, Washington Crossing and in the surrounding farm, equine and residential communities. The company currently enjoys significant market share in many of those key areas, including neighboring Lambertville and Delaware townships.
The new office features an open, welcoming entrance and large windows that look out on the historic thoroughfare. Conveniently, the building also houses a mortgage company, an attorney, and a title company — all of which complement the services River Valley Realty offers.
"We've created an especially attractive and inviting space where residents and visitors can feel comfortable dropping in to chat about the local real estate market or to explore how River Valley Realty can help meet their buying and selling needs," Bacso said.
The new office is available to community groups for meetings and special presentations, and several nonprofit organizations already are interested in using it.
The Flemington location is the third office River Valley Realty has opened on a main street. Its flagship office is located at 45 North Main Street in Lambertville, and the firm serves clients in Bucks County from its office at 76 South Main Street in Yardley, Pa. "It's no wonder that we like to remind prospective clients,  'From the river to the valley, we're your Main Street Realtor,'" Bacso said. "I'm a hands-on owner with a rock-solid commitment to the communities we serve, and I love being directly involved in my firm's day-to-day operations."
Bacso said her firm's expansion into Flemington is especially meaningful given her family's deep roots in the community. "My grandmother, Virginia Hall, was born and raised in Flemington. She was an early feminist, and I know she definitely would share my pride in celebrating the growth of this woman-owned, high-performing company. And like me, she also would have embraced opportunities to give back to this very special community she loved and called home," Bacso said.
Bacso established River Valley Realty in 2012 after more than 20 years as a real estate agent because she identified a strong need for engaged, knowledgeable agents who can provide invaluable, informed guidance on issues specific to Delaware River Valley properties. "I recognized an opportunity for an independently owned company to market unique properties in a way that is noticeably different from the corporate-owned models so prevalent in the real estate community," she said. "We pride ourselves in being able to offer our clients a truly customized marketing plan; responsive, hardworking agents and local knowledge."
For more information about River Valley Realty, visit us at www.RiverValleyInfo.com.